BOZEMAN — A night that began with a banner unveiling ended in victory for the Montana State women's basketball team.
The Bobcats (3-1) overcame some early shooting problems to earn a 77-66 nonconference win over North Dakota (2-1) Friday night at Worthington Arena. The banner commemorating all of MSU's Big Sky Conference championships now includes the 2021-22 team. In Friday's second half, this year's squad showed why it was the preseason pick for a repeat.
"A tough win," said MSU head coach Tricia Binford, adding, "We've got a lot of selfless kids making this work and we're just glad they're all on our roster, it's gelling and working together."
Her first game as a bobcat started Marah Dykstra, a 6-foot-2 freshman forward from Vancouver, British Columbia. MSU coaches "love Marah's rebound ability" and her defensive skills, Binford said, as well as the combination of Lexi Deden and Taylor Janssen, allowing them to come off the bench together.
The Cats were trailing 14-13 after a quarter despite having made just 4 of their 19 field goal attempts (21.1%). The Fighting Hawks didn't shoot much better (31.3%), but their bigger problem was losing possession. They committed nine while only forced one in the first 10 minutes.
AND went into halftime with a 29-27 lead and the same story as the first quarter. The Hawks shot 32.4% to MSU's 23.5%, but they coughed up 17 turnovers to MSU's eight going into the third.
"It was part of our scouting report to really attack those gaps because we knew they were a tenacious team," said MSU Junior Guardsman Leia Beattie. "That was something we didn't do well in the last game, so we really focused on that game."
The Cats also had trouble shooting early in Tuesday's loss to Arizona State, and they felt some of those troubles carried over into Friday's game.
They finally found their rhythm in the third quarter and extended a nine-point lead with a 17:2 run. That "felt like a turning point," Beattie said.
The revenue margin shrank as the game progressed, but so did the shooting disparity. MSU finished the game with a score of 36.5% from field while AND shot 36%. The Hawks turned the ball 24 times and forced 19 takeaways.
"The difference between ASU and this game is that we didn't let that (poor shooting) get us down," Beattie said. "We stayed trapped on the defensive, and that led to some offense (success)."
Darian White led MSU with 17 points (4 of 8 from the field) and five assists, while Beattie had 14 points (6 of 11) and three steals, and Kola Bad Bear added 15 points and five rebounds. Dykstra had eight boards at team height and three blocks at game height.
Friday's game ended in a double-header that began with a 106-64 win for the MSU men over Warner Pacific. The teams unveiled the banners between games, with Binford and Danny Sprinkle making speeches to the crowd. MSU head soccer coach Brent Vigen also spoke briefly to fans.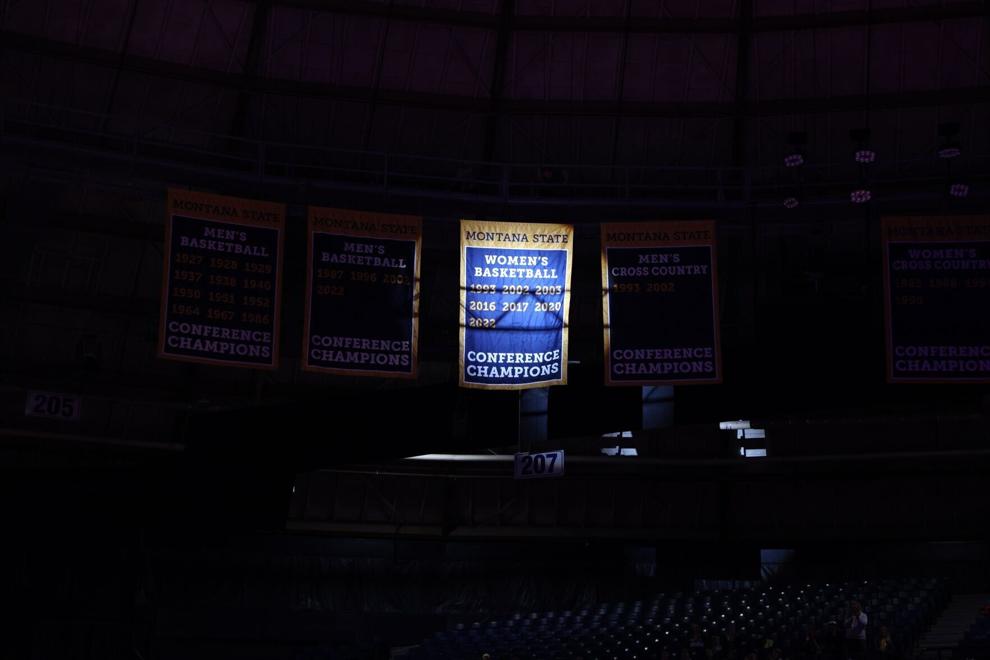 Vigen's team will, of course, take on rival Montana in the 121st Brawl of the Wild on Saturday afternoon, shortly after ESPN's "College GameDay" makes its first appearance in Montana.
"It's been an incredible week," said Binford. "It's been amazing sharing this amazing community with the rest of the world what's obviously going on with the upcoming GameDay and Cat Griz weekend. To be able to do our banners this weekend with the men's basketball team and the football game tomorrow, it's quite a humbling but incredible moment for this community."