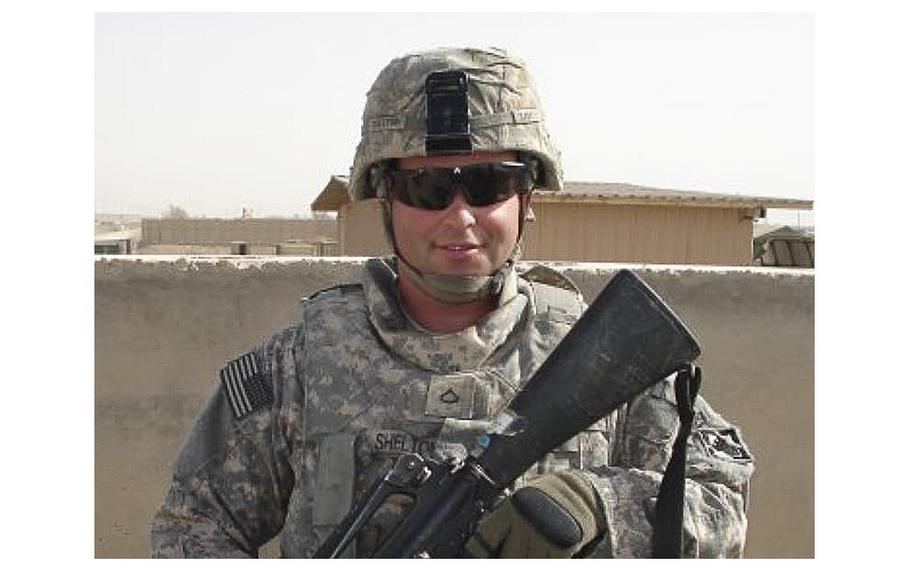 (Tribune News Service) – Jonathan Shelton was ready to call it a lifetime.
Today, Shelton is responsible for youth ministry at Libby Christian Church and has a life for which he and his family are very grateful.
"My son and I love to hunt and my daughter loves to fish, so Libby is a great place," he said.
But less than a decade ago, the consequences of military service to his Middle Eastern country had prompted him to mix opioid painkillers and whiskey.
"It had become a way of ending my life," Shelton recently told The Western News. "I needed the painkillers for the pain, but the whiskey took it to another level."
Shelton was a victim of the 2008 recession. He had lost his job but still felt like one of the lucky ones because the work wasn't very fulfilling.
"I had enlisted in the Army Reserve shortly before my discharge in 2007 and after discharge I decided to go full-time. It was God's work," Shelton said.
Shelton's father was a career soldier and served in the US Army for 36 years. He credits him with the example he set for his son.
"My class of 100 recruits had 12 graduates and I give my father credit for that," Shelton said.
Shelton then became a member of a Special Ops team.
"It was more like family and I still miss it to this day," he said.
But those special times included the ravages of war after it was deployed to Iraq. He and his unit were exposed to what he called three separate IED incidents.
IEDs are improvised explosive devices, homemade bombs designed to destroy or incapacitate their targets.
Shelton and five others in his unit were also poisoned. To this day, he's not sure how it happened.
"Our small group ate local food to be part of the local culture," Shelton said. "I'm not sure, but we assumed we were poisoned by something put in the food. It was the only time we ate together."
Shelton said he was bleeding from his fingers and toes and the fits of coughing and vomiting were indescribable.
"Two in my unit committed suicide and three others died," Shelton said.
"The prognosis for me from the doctors was bleak. They'd say, 'I don't know how you're alive.'"
But Shelton credits his faith for where he is now.
"I gave my life back to the Lord," he said. "I have learned to overcome bitterness and I have rededicated my life to God and my family."
In 2012, Shelton received a full medical retirement. He paid a heavy price for his time in the Middle East, but today he says it was a path he should take.
"After I returned home, my wife Tabitha and I had our first child," Shelton said. "But I was in my haze of painkillers and whiskey and just after he was born they left and I missed his first birthday."
The couple, who married in 2006, had their first child, 12-year-old Rhett, in 2010.
But God had other plans for Shelton. He ended up in Libby and began working with a physical therapist at OrthoRehab Physical Therapy.
"I worked with him for about 18 months to two years, and it made a huge difference," Shelton said. "We never broke up, but I had to figure things out.
"We both didn't want to divorce and give her credit for letting me go back to Coeur d'Alene," Shelton said.
Shelton and his family rented land there until costs rose further and they moved to Libby.
"A man had died and we knew his family and we bought the house," Shelton said. "The price was right and we did a lot of remodeling and work to get it ready for the family."
The family was soon to grow as Tabitha was pregnant with her second child. Payton is now six years old.
"That was also a miracle because the doctors said I was infertile," Shelton added.
Shelton's troubles were not over, however. In 2020 he was diagnosed with Parkinson's disease. Doctors told him it was a result of brain damage he sustained from the IED blasts.
But still, God had more work for Shelton. Matt Warner, the youth minister at Libby Christian Church, had left. Shelton volunteered at the church.
"It was open and I had thought about it, but one day I told Phil (Alspaw) I was interested. They agreed to give me a chance, and I've been the youth pastor for eight months now," Shelton said.
The youth program had 20 children, but Shelton said there are now more than 60.
Those who attended the Veterans Day ceremonies at Veterans of Foreign Wars Harper Erdman Post 1548 in Libby heard Shelton's story. Shelton was there with many other vets to receive a quilt of valor from the Kootenai Valley Quilt Guild.
Mary Hickey made Shelton's quilt and she told him he needed to share his story.
"After hearing everything, she said I had to tell other people," Shelton said.
Shelton shared his inspirational words that evening.
"There's always someone worse off," he says. "Do not fear what kills the body, fear what kills your soul.
"When you give your life to the Lord, there is a purpose," he said. "People need to remember that if they have just one positive quality in their life, they should look at it, focus on it, and build on it."
(c)2022 The Western News (Libby, Mont.)
Visit The Western News at www.thewesternnews.com
Distributed by Tribune Content Agency, LLC.