BOZEMAN — The Montana State men's basketball team celebrated last season's success as the updated Big Sky championship banner descended on the northwest corner of Worthington Arena.
Notably, the MSU men's and women's basketball teams won both the Big Sky regular season and conference tournament titles in 2021-22. Striker Jubrile Belo said last year's group "have wanted this for a long time".
"I just felt fulfilled when I saw that (Banner Drop)," Belo said.
Head coach Danny Sprinkle said last season's team will be appreciated even more "as time goes on," both by MSU and the Bozeman community. The redesigned banner also provides motivation, Sprinkle said, and he'll often point to the rafters during future conditioning drills.
"That's why you came here," Sprinkle said. "You don't come here to play for third or fourth place. They come to win a Big Sky Championship. That has to be the standard."
Idaho State transfer point guard Robert Ford III added that defending those Big Sky titles "makes all the new players hungry." Despite a rocky start to the season — MSU lost two of their first three games — the Bobcats corrected course with a 106-64 win over Warner Pacific in their home opener Friday night.
Belo led all scorers with 23 points and eight rebounds. Four other Bobcats also scored in double figures, including Jed Miller (14), Sam Lecholat (12), Patrick McMahon (12) and Alex Germer (10).
Belo had been quiet in recent games, with just 15 total points entering Friday's contest. Sprinkle attributed this to Grand Canyon, Long Beach State and Oregon consistently "throwing guys at him" during the first three games.
"He's going to be exposed to that for the rest of the year, but it was good that he had some shots," Sprinkle said. "I just liked that he was aggressive tonight."
The forward was the driving force for MSU on offense all night, especially at the free throw line where Belo scored 9 to 14. The clearest example of his dominance came early in the second half when he scored six goals in a row, highlighted by a reverse dunk.
"The coaches told me to grow up, get down there," Belo said. "We have to work on some things, especially myself, but I just tried not to think too much. Just go out and play."
MSU was also incredibly effective outside of timeouts. The Bobcats capitalized twice in the first half, resulting in an alley-oop to guard RaeQuan Battle and Ford hit a wide-open 3.
Sprinkle said he recently stressed the importance of executing timeouts, halftime breaks and late games.
"It's something we have to keep getting good at," Sprinkle said. "And not just from the break. Our execution needs to be much cleaner throughout the game."
Another thing to clean up is some "defensive errors" that have occurred against the WPU, Belo said. This mostly happened when guard Isaac Etter had the ball, as Etter led the Knights by 19 points. He also shot 5 for 11 from deep.
"He can stretch the ground really, really deep," said Ford. "That was tough. And then he just has to know where he is at all times. He's a really good shot."
Ford – who is coming back to form after six weeks in a boot – mainly competed against Etter. Ford finished the race with nine points, five assists and two steals.
"He has to continue to be aggressive and be a great defender," Sprinkle said. "I know he can be that because he can change our team defensively."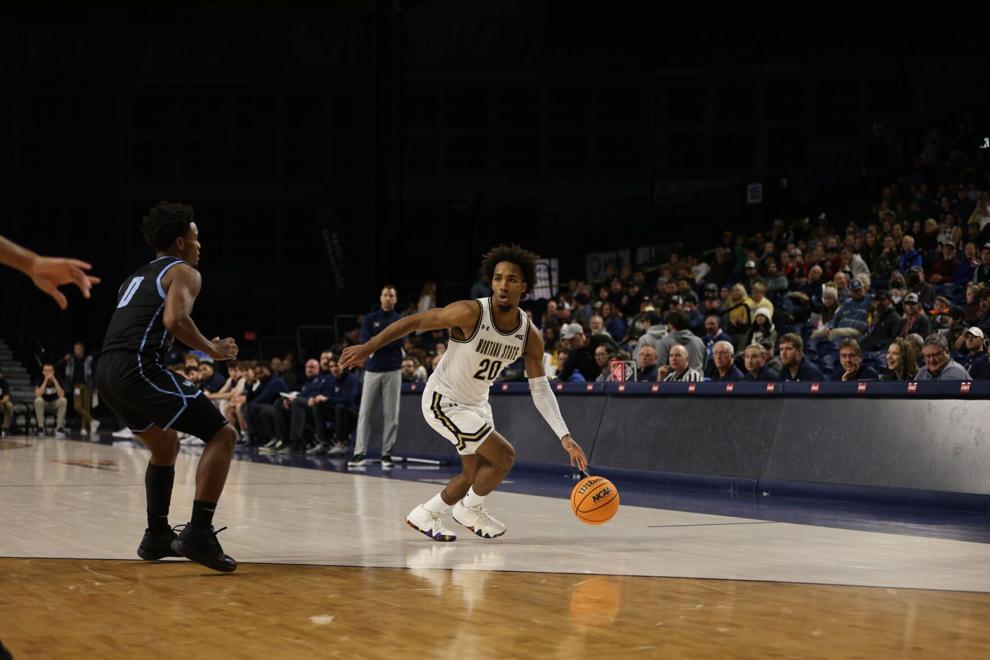 Despite some impressive shots from Etter and his teammates, the Bobcats pushed their will in the second half, extending their lead to as much as 46 points in the second half. With just three minutes to go, the exclamation point came when Bozeman High grad Carter Ash nailed a 3 to send the MSU bench into a frenzy.
"Everybody loves him," Sprinkle said. "If you find anyone who doesn't like Carter let me know because he's absolutely amazing. It's always nice to see his hard work pay off."
The flag throw and convincing home opener win are the first of several celebrations for MSU Athletics this weekend, culminating in Saturday's College GameDay and Brawl of the Wild.
Meanwhile, Belo called Friday night "good for the entire (MSU basketball) program."
"The fans come out, show love," Belo said. "We just appreciate the support we're getting from the community."
MSU next meets North Dakota on the road Sunday. Tip-off is scheduled for noon.