According to the Helena Food Share website, one in five children in the Helena area suffers from hunger at the weekend and hopes their next meal won't have to wait until Monday at school.
The challenges of recent years, including high inflation, have increased food shortages for families. Helena Food Share (HFS) works with its Kid Packs program to ensure that Helena's children do not go hungry over the weekends throughout the school year.
"(Kid Packs) absolutely benefit children and our community," said Bruce Day, executive director of HFS. "You know the stories you would hear if you spoke to a teacher or one of the coordinators in the schools, the principals. They would tell you how important it is for kids in their schools to make sure they can show up and be ready to learn."
HFS has been running the Kid Packs program since the beginning of the 2009-10 school year. HFS offered the program in its first year in partnership with the Montana Food Bank Network and the National Backpack Program. Now HFS runs it solely with community partnerships.
The first school to receive Kid Packs was Bryant Elementary School due to the school's proximity to HFS camp. HFS added more schools each year until the fall of 2014, when Kid Packs began operating in Helena preschools through middle schools, Day said.
Bryant Elementary Principal Trisha Klock noted how important kid packs were at her school. Klock is also a board member of Helena Food Share because she is very committed to ensuring that members of the Helena community have enough to eat.
"If we look at historical data and look at the number of kids taking home food packages from that particular building, it's always been high," Klock said. "… We send a lot of food parcels. We know there are kids — every time I talk about this, my breath chokes — we know there are kids who have strategically planned what their meal is going to be for the weekend based on what's in the Grocery parcels home."
For the 2022/23 school year, HFS distributed around 1,250 kid packs to Helena schools each week. HFS will issue approximately 40,000 Kid Packs each school year, Day said. If a child is believed to be experiencing food shortages on the weekends, the school principal or school counselor are good points of contact.
During the peak of COVID-19, the number of students receiving Kid Packs declined. Since the students were practically attending school, it was difficult to find a drop-off point. To keep the buses busy, HFS volunteers drove the buses into neighborhoods to drop off the kid packs.
"Because our camp is so small, we didn't feel like we could have groups there to put our kid packs together, so we moved the whole thing to the Salvation Army gym because they weren't using their gym," Day said. "We started with volunteers on the buses, but we eventually moved away from that."
Kid Packs include foods like beefsticks, milk, oatmeal, juice, hummus, fruit cups and more. HFS has sought to partner with Montana-produced foods, so the Kid Packs contain locally grown Kracklin' Kamut, a grain that's organically grown and roasted in small batches at Big Sandy.
"Food costs have gone up and (HFS) is still able to offer our children nutritious food that will fill their bellies and make it through to the next day of school. ' said Clock.
The program is funded entirely by donors, including individuals, families, or businesses. Volunteers also prepare the children's packages on Tuesday afternoons each week, which are delivered to the schools on Thursday mornings.
On Thursday, Bryant got a double drop along with all schools receiving kid packs in preparation for the upcoming vacation. The teachers are handing out this week's kid packs and waiting until next week to hand out the kid packs for Thanksgiving weekend.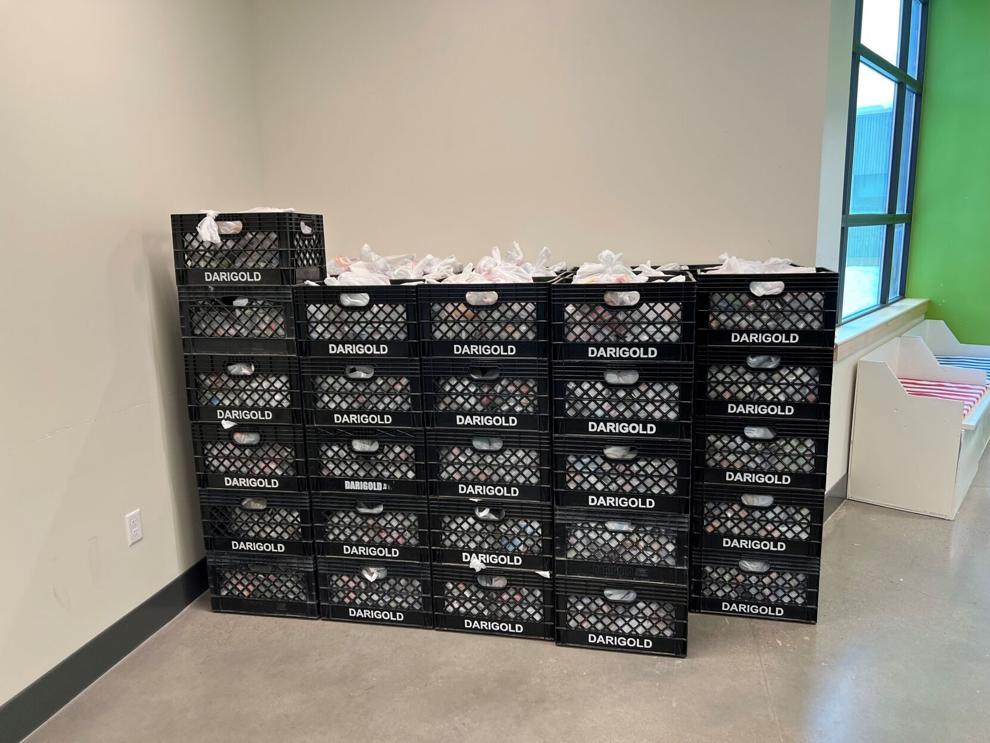 "I can't thank you enough," said Klock. "Just the volunteers, the hours worked, the product that they are able to put into our children's hands is just beyond words, it's amazing, it's all the words that come to mind to just say thank you (HFS) and all those hard work they put into it."
Businesses and groups can register online at https://helenafoodshare.org/kid-pack-challenge/ to prepare Kid Packs on Tuesday night. Some groups that have recently done this Kid Pack Challenge include First Interstate Bank, Dick Anderson Construction, St. Peter's Episcopal Church, Our Redeemer's Lutheran Church, and others. Donations to HFS and Kid Packs can be made at https://helenafoodshare.org/general-donation-form/.
"I just want to encourage the Helena community to continue supporting Helena Food Share," Klock said. "We've received a tremendous amount of really generous donations over the past few years and that's helped us keep up what we're doing, so just keep donating, volunteering, do what you can for this organization literally bringing everything back to the community and back to the people who need the support."