BOZEMAN — Brian Armstrong recalled seeing Cole Sain in high school, but struggled to remember much else from that year's recruiting path.
"That was 100 years ago," Armstrong joked last week.
In reality, that was five years ago, but the Montana State offensive line coach feels like a century has passed, largely because of the COVID-19 pandemic. It also seems like Sain has lived a lifetime since graduating from St. John Bosco High School in Bellflower, California.
Sain signed with Montana in 2018, then transferred to a junior college and became a Bobcat just before the pandemic began. The offensive lineman appeared primed for a breakout in his first collegiate season at Treasure State, but injuries plagued his fall and winter 2021.
Apart from a scare last month, Sain has been healthy all season. Now the 6-foot-4, 290-pound MSU starting rights guard is hungry to claim his first win over his former team and he will have a major role in the 121st Brawl of the Wild on Saturday at Bobcat Stadium to play.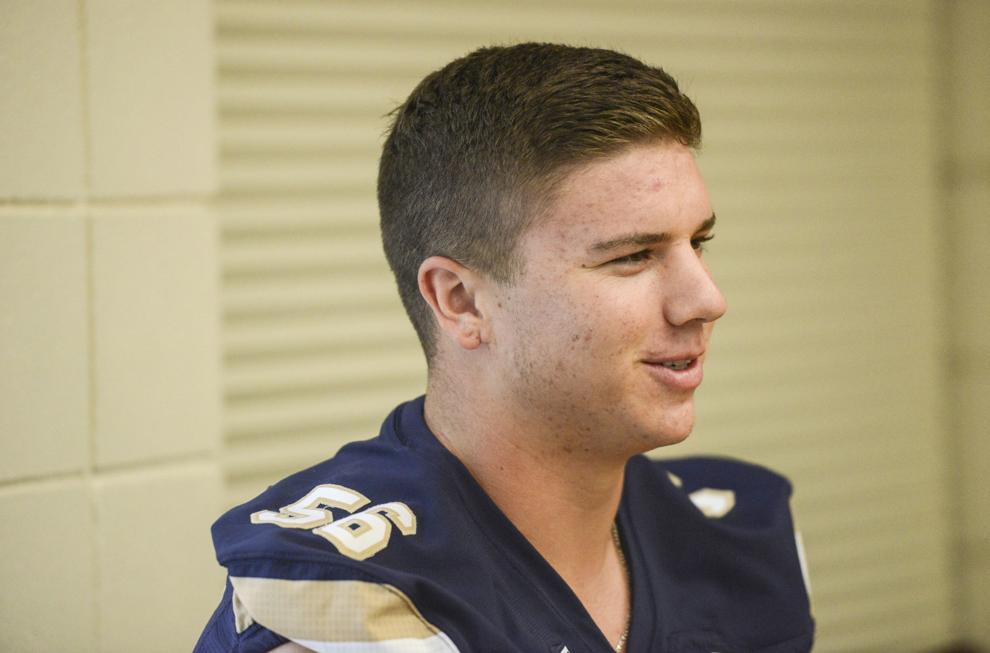 Sain spoke to media on Nov. 7, almost two weeks before Cat-Griz (senior team captains were the only MSU players available for interviews this week). The redshirt junior preferred to talk about then-upcoming adversary Cal Poly, but offered an answer on the brawl when asked about his unique connection.
Not only was Sain a redshirt with the Grizzlies in 2018, he was born in Hamilton and raised in Darby before moving to California at the age of 9. His father, John Sain, and his uncle, Mike Sain, also played for the Bobcats.
"It's definitely a very important game and it's big in the state," said Cole Sain. "It's cool to be able to do something that my dad was involved with. Trying to make him proud."
Sain would have pulled MSU out of high school but didn't get an offer from the Cats, he told 406mtsports.com last year. Sain tried UM but said it "didn't fit well," so he moved back to Southern California and played for Riverside City College in 2019.
The MSU offer he wanted came after his stint at Riverside, but he couldn't play for then-Cats head coach Jeff Choate. The "Griz Slayer" became co-defensive coordinator/inside linebackers coach in Texas in early 2020 and was succeeded by Brent Vigen.
Following the canceled 2020 season due to the pandemic, Sain entered fall 2021 camp as MSU's first-string center. He suffered a concussion before the start of the season, according to Armstrong, and Justus Perkins has since started at center.
Sain played in Wyoming in the season opener but sprained his ankle, according to Armstrong, and played in just four games the rest of the year. Even when Sain was healthy, he sat behind Perkins, left guard Zach Redd and right guard Taylor Tuiasosopo.
Sain spent much of the offseason in the weight room because, as he said, "strength training is also injury prevention."
"It sucks to watch," he added. "You always want to be out there on the field with your boys. So yeah, it feels good to be out there."
Unlike last year, Sain entered the 2022 fall camp as a runner-up. And unlike last year, he exited fall camp at the top of the depth chart.
"Last year sure was tough for him," said Armstrong, adding, "Last year it was just one thing at a time. He's played a bit but – knock wood – he's been a lot healthier this year and he's doing a solid job for us."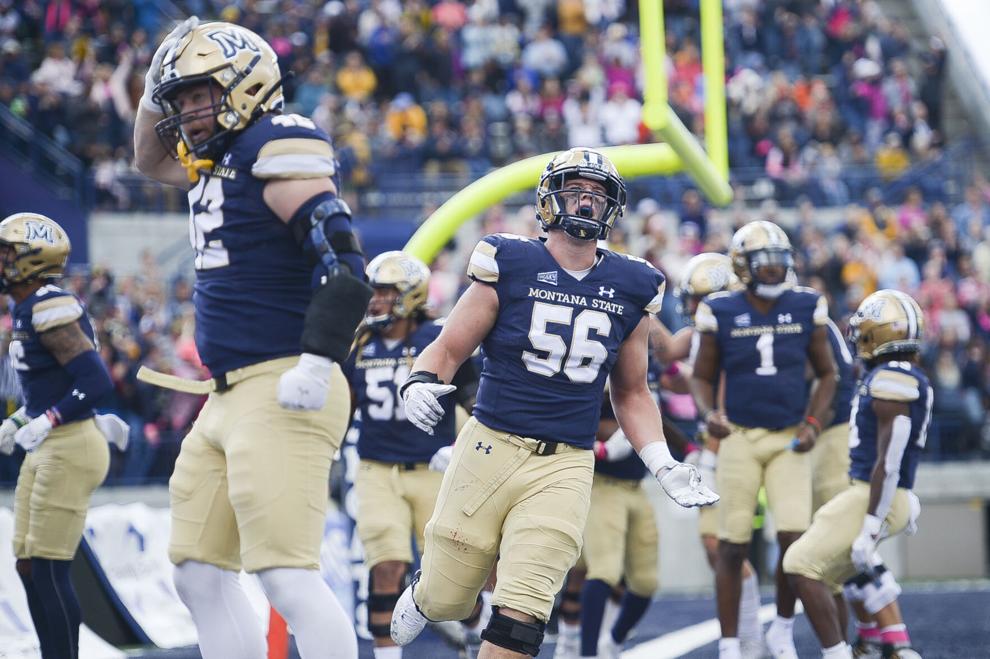 Sain's health run appeared to be over on October 15 in Northern Colorado. Towards the end of the first half, a UNC defender accidentally ran into Sain's legs, injuring his right knee. Sain grabbed the knee and writhed in pain, looking uncannily like right tackle Marcus Wehr, who sustained a season-ending leg injury early in the game.
Not only did Sain see the field again this season, he watched a week after the UNC game and returned to the starting lineup two weeks later.
"I definitely thought it was going to be a lot worse than it ended up being, so it was definitely a relief when we got the MRI results and it wasn't serious in the end," Sain said.
Sain was part of a rotation with beginning left guard JT Reed and substitute Omar Aigbedion, but he's started nine of the 10 games and helped the Cats' O-Line go from arguably their most shaky positional group to arguably their best.
The Cats ran a strong inside-zone running pattern last season when Redd, Perkins, Tuiasosopo (an All-Big Sky second team), right tackle TJ Session and left tackle Lewis Kidd (an All-American) made up the bulk of the games started. All but Perkins are out of the program, and those four departures left many wondering if the O-Line would fall behind, especially considering Sain was the only starter or substitute older than a sophomore.
Instead there was no drop (and arguably an improvement) with Sain, Reed, Aigbedion, Perkins, Wehr, left tackle rush Reimer and Wehr's backup Jacob Kettels in the trenches. Their collective athleticism prompted MSU coaches to switch to running games in larger zones this year. Despite missing their top running backs for most of the season, the Cats lead the Football Championship subdivision in yards per carry (6.12) and are second in yards per game (288.3) behind Davidson, who the Operates triple option and has passed just 115 times this season (MSU has attempted 238 passes).
"I'm a veteran high school coach," said Armstrong, who spent two of his seven high school coaching years as an offensive coordinator at Townsend. "You weren't allowed to recruit boys in high school, you trained what you have, so you try to play to their strengths. I think good coaches do that. Obviously recruit for your system, but try to play to your staff's strengths."
Armstrong described Sain as aggressive and intense, but he's also thoughtful, smart and prepares well. Sain can decipher what opposing defenses are trying to do without the help of coaches, Armstrong added.
"Being able to figure it out on the fly and be able to adapt to things I think is a strength. Not just his, but I really think all of our guys up front," Armstrong said. "Being able to get used to things that aren't exactly how you would see them, which isn't easy, especially for people who haven't played much."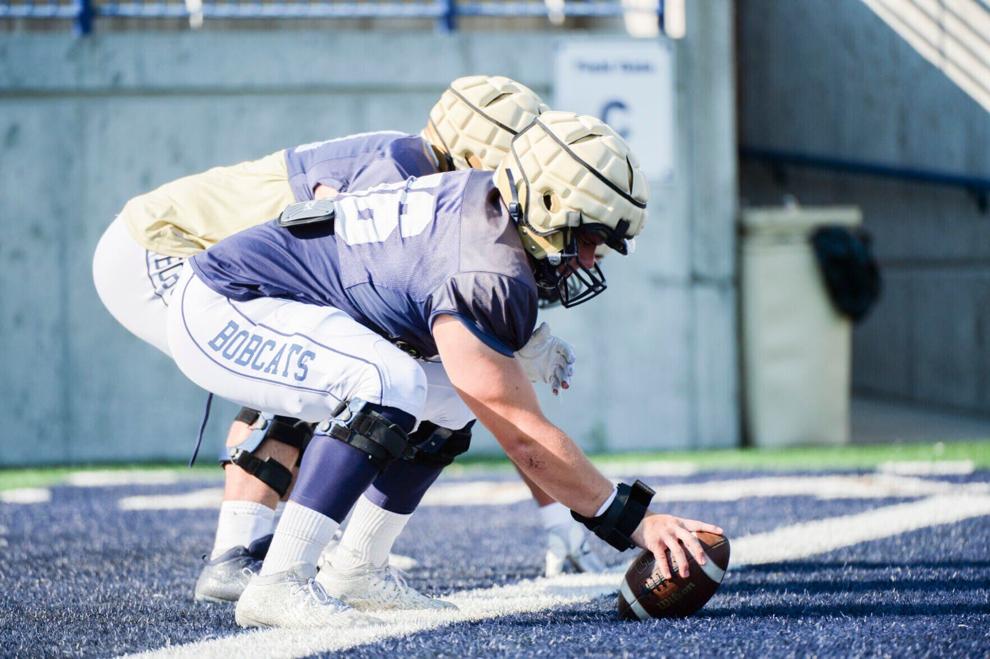 Sain will get his first cat griz experience on the field on Saturday, and he'll do it against the top-rushing defense in the Big Sky Conference. Last year, he watched the Griz hold the Cats for 208 total yards (96 rushing at 2.3 yards per carry) and prevented them from tying the Big Sky title. Like last year, MSU is the third-ranked FCS team with records of 9-1 overall and 7-0 in conference play and faces UM who is 13th, 7-3 and 4-3.
A native of Bitterroot Valley, Sain couldn't avoid ripping Griz fans when he made the move to MSU.
"It's all fuel," Sain said last year.
That could be the mantra for MSU's entire O line this season. The group took preseason doubts personally and sailed past expectations. Not even Wehr's injury or strong defenses like Weber State's have hindered the Cats at the line of scrimmage.
As Sain implied, this isn't last year. He and his fellow O-Linemen hope to make that clear again this week.
"Occasionally great isn't what we're looking for. We want to be consistently good," said Armstrong. "The greatest measure of mental toughness is the ability to be consistently good every day, and I think they pulled that off."