Public hunter groups and outfitters on Tuesday announced a consensus package of bills for the 68th legislative session, including legislation to reform some preferential licenses for non-residents and landowners, increase penalties for trespassing and harassment by hunters, and expand education and block management.
More than 100 camouflage-clad hunters gathered for the Elk Camp at the Capitol Tuesday as speakers spread a message of cooperation despite often considerable political differences. They heard about a bill coming from a coalition of hunting and access groups and others than the Montana Citizens' Elk Management Coalition and the Montana Outfitters and Guides Association.
Speakers included former Montana Fish and Wildlife Commissioner Patrick Byorth, President of the Montana Outfitters and Guides Association Dusty Crary, Legislator and Governor Greg Gianforte.
"I'm preaching to the choir here, but hunting, fishing, outdoor recreation isn't something we do, it's what we are," Gianforte told the crowd. "It's part of our identity as Montanans and we need to work together, everyone's voice needs to be heard so we can find common solutions."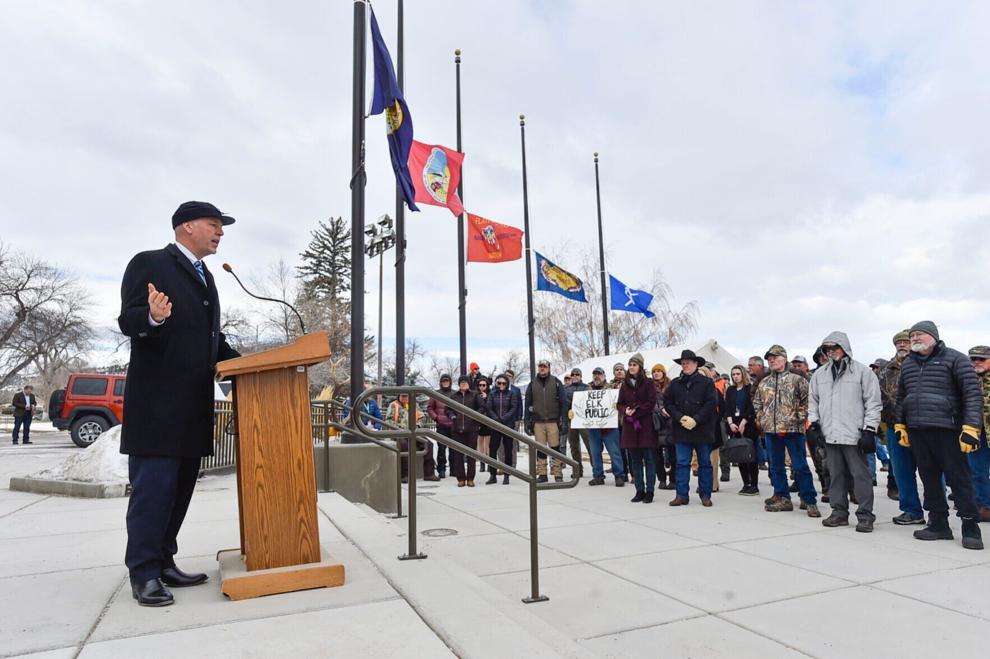 Gianforte announced efforts to improve public access, such as acquiring the Big Snowies Wildlife Management Area and expanding the Mount Haggin Wildlife Management Area. The governor said he looks forward to following the proposed bill during the session.
Efforts to find more common ground on issues such as moose management, access to hunters and funding come after a particularly difficult period in the 2021 legislature and changes in hunting regulations. Proponents have often clashed with lawmakers, the administration, Montana Fish, Wildlife & Parks and the Montana Fish and Wildlife Commission over controversial laws, hunting regulations and licenses at a time when concerns about land ownership changes and public access challenges are increasing.
Byorth recently completed his tenure on the commission, serving as the sole holdover from former Democratic Gov. Steve Bullock. He took a historical look at wildlife management in Montana and the West, noting the wildlife and habitat conservation and restoration efforts being driven by hunters that continue to this day. The Montanans must continue to be heard, he said.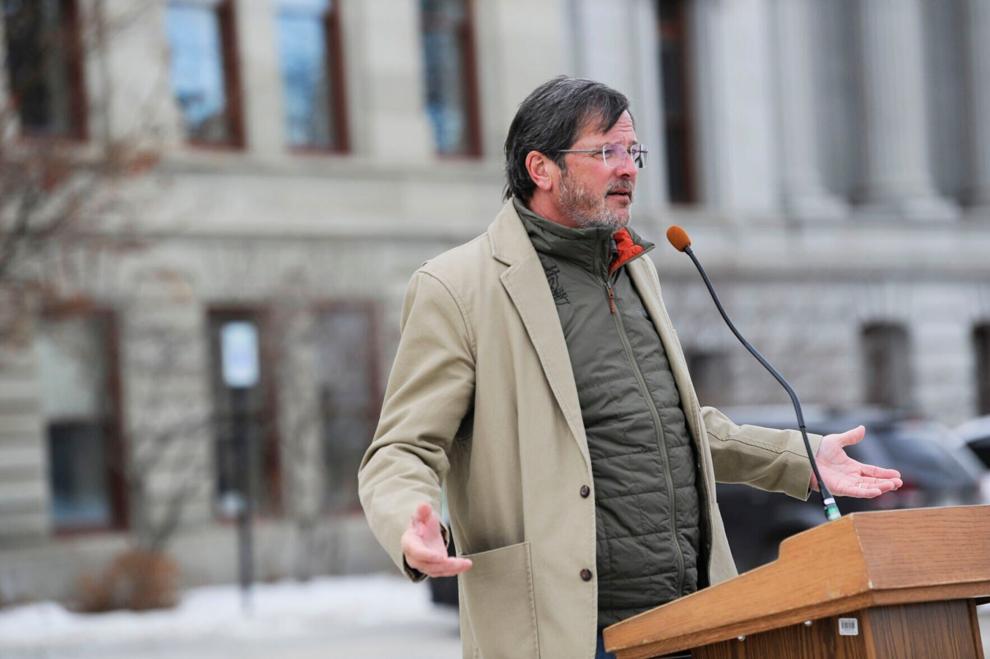 "So now I'm asking, where do we want to go from here, where do the Montanans want to take our wildlife?" he said. "We don't want to sell it to the highest bidder, we went that route."
While Crary recognized that politics is inherent in the affairs of the legislature, he also struck a collaborative tone.
"I think it's extremely important that we all talk here today, instead of just talking to each other like we do too often," he said.
The invoice package includes:
A proposal to establish a non-resident landowner preference pool that would make up to 15% of non-resident licenses available to non-resident landowners owning at least 2,500 acres. A license could be available for every 2,500 acres up to 10,000 acres for owners, direct line families or full-time employees. Hunting would be restricted to a landowner's deed or leased land. The bill would also provide an added bonus point for special permits for landowners participating in an access program.
A second bill would double the minimum acreage for landowner preference to 640 acres for deer and 1,280 acres for moose, and restrict it to private land within the hunting district.
A third bill would reform the 454 programs that grant landowners special permits for public access to three hunters. The change would require landowners to offer at least one hunter a "similar" hunting opportunity, meaning that if a landowner is granted a special bull moose permit, a public hunter must be authorized to hunt the same. The bill also encourages more negotiations for an additional public hunt for cow moose.
A fourth bill would restrict the purchase of additional antlerless deer licenses for non-residents pursuing a hunting license with the aim of reducing crowding.
Bills would also seek to increase fines for trespassing, with fines ranging from $250 to $500 for a first offense and possible revocation of hunting and fishing licenses. Hunters' harassment laws would be expanded to include intentionally blocking access where legal to the public. And a list of hunters convicted of hunting without landowner's permission would be made available so landowners could consider denying access.
On the subject of education, one bill would mandate an in-person field day on hunter training, and another bill would create a study bill for the legislature to consider improved hunter training programs.
Finally, the groups are backing a bill to double the payment cap under the Block Management program for landowners allowing public access to hunt.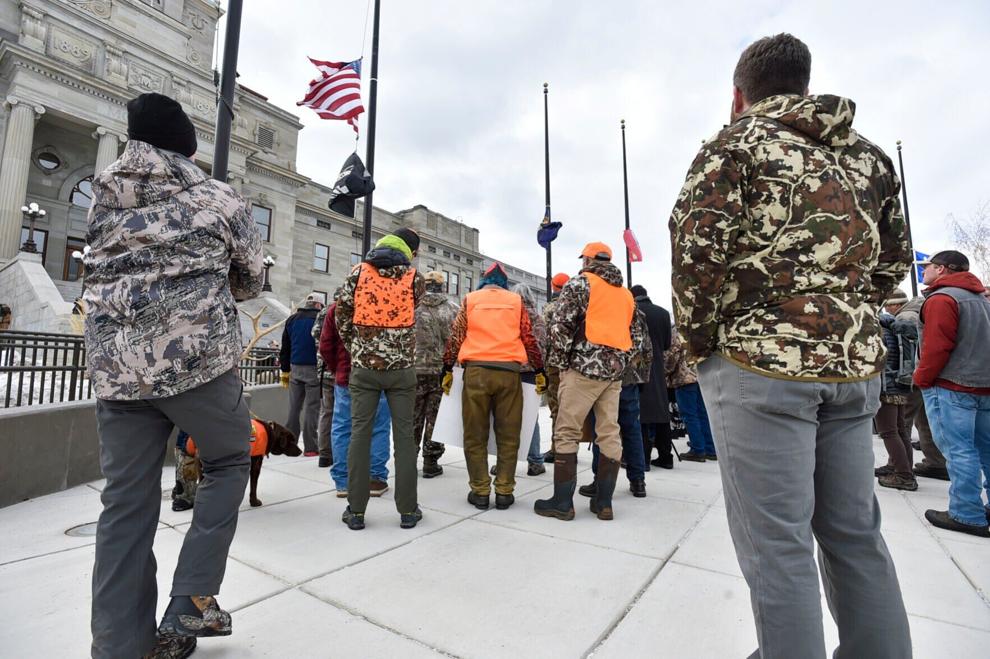 Sen. Jeff Welborn, R-Dillon, was among those who urged opposing parties to sit down following the aftermath of the 2021 session.
This session included the pushback on late changes to an invoice that provided one-time licenses for non-residents who had booked with an outfitter and a license raffle benefit for non-residents who had booked with an outfitter. Another bill that stalled in committee would have provided landowners with licenses for distribution.
Welborn welcomed the turnout on Tuesday and announced efforts to invest $200 million of the current budget surplus in a trust to fund conservation work, saying he believes it will get a fair hearing.
"For me, maintenance means taking care of what we already have, like getting new management areas or something like that, we have to take care of what we have," he said. "…I think we have some opportunities that we haven't had in a long time to fund this in any other way."
Rep. Tom France, D-Missoula, threw his support on consensus for several bills, but also highlighted some disagreements on other issues. He criticized Gianforte for shifting marijuana tax funding for the Habitat Montana program to other priorities. The program earns a portion of the sale of hunting licenses for FWP to purchase land, conservation easements and more recently conservation leases.
"I think that's going to be one of those places where Democrats and I hope a lot of Republicans will say, 'That was the wrong election, governor,'" he said.
Gianforte said he believes the Habitat Montana program is adequately funded.
While there was general support for the idea of ​​the collaboration, not everyone present on Tuesday was happy with Gianforte's performance.
Ryan Busse, a former firearms industry executive and author of Gunfight: My Battle Against the Industry that Radicalized America, pointed to previous disagreements between gunnery advocates and the government and said he and some others were frustrated by the appearance. He believes that politicians have pushed the "privatization" of wildlife, stepped on the accelerator from Habitat Montana and rejected a science-based approach to wildlife management.
"There is a lot of deep-seated frustration and anger in what the administration has already done," said Busse. "…I suspect we'll see that in the future. I hope we're wrong, but we judge Governor Gianforte by his past actions."
Tom Kuglin is the Associate Editor of the Lee Newspapers State Bureau. Its reporting focuses on outdoor, recreation and natural resources.