BUTTE – This fall, the "Family" and "Count on Me" banners proudly hang above the stands around Bob Green Field.
They're more than just words to the Montana Tech soccer team: They're the lifeblood of the entire program, and they've become increasingly relevant to defender Isaiah Allik over the past two years while he was dealing with a rare form of cancer .
Born in Charlo, he was a successful wrestler before setting his cleats on a soccer field. He started wrestling before moving to live with his father in Wasilla, Alaska.
"Charlo was small compared to Wasilla," Allik said. "It was a big leap from Charlo, a Class C school, to a school in Alaska with 2,000 kids. I liked the outdoor aspect of Alaska as it is very similar to Montana. I could wrestle and play baseball and basketball before I took up soccer."
When it came to wrestling, Allik was a natural. As a freshman at Wasilla, he placed second at the Alaska State Wrestling Meet. When he returned to Montana as a sophomore, he began playing football for the Charlo Vikings. Midway through his three-year varsity football career, Allik placed fourth at the Montana State wrestling meet during his junior year.
"Wrestling was my first love," Allik said. "From there I fell in love with the sport in general and played everything I could until I could play football."
Allik did not lose the competitive nature of wrestling, but served as the basis for his passion for football.
"It opened our eyes," Allik said. "Competing with the best kids, whether they were taller than me or not, older than me, gave me more confidence in my career."
A two-way player in football as both a running back and linebacker, the Vikings benefited from Allik's versatility. At some point during his sophomore year, Allik even played guard.
"We had some lineup issues," Allik recalled with a laugh. "I played guard even though I was quite small."
While receiving some college offers, Allik chose Montana Tech to major in Occupational Health and Safety.
"Coach (Chuck) Morrell was visiting with my parents and I," Allik said. "Montana Tech really wanted me here in Butte, and I wanted to be in that culture."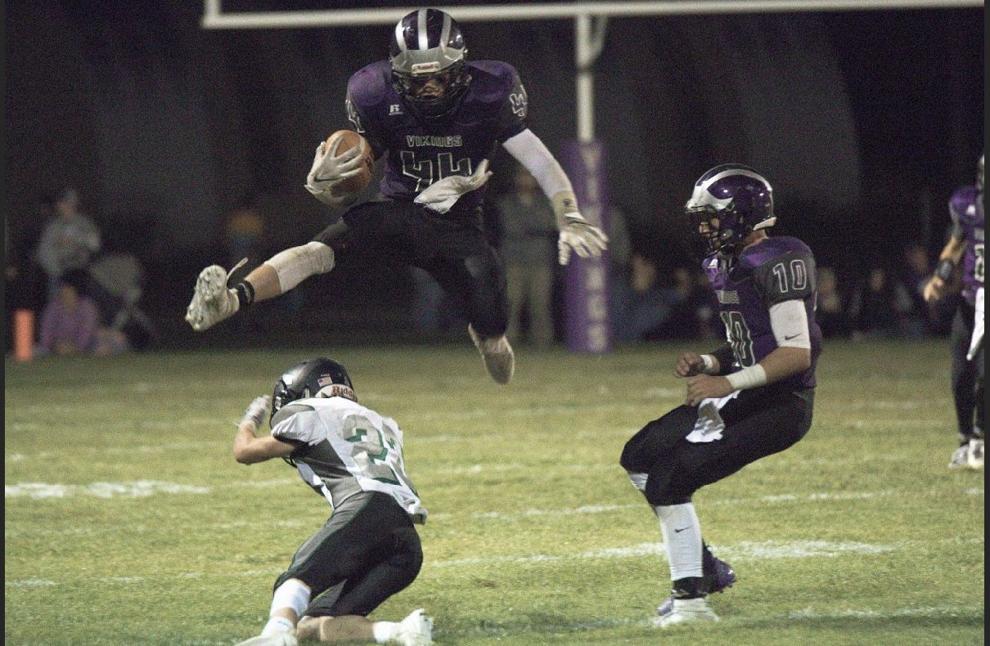 Before Allik graduated from Charlo, Morrell had departed to become Fresno State's new defensive back coach. Kyle Samson was named the Orediggers' new head coach on January 21, 2020 by the offensive coordinator.
When the 2020 football season was canceled due to COVID-19, the team had individual training schedules.
"We were team-wise in COVID-19 restrictions, so I trained alone and tweaked my knee run," Allik said. "I noticed I had a knot in my back leg and thought nothing of it. I did physical therapy and it got worse. I did an MRI and found it was a tumor."
"The day we found out, it was a mixture of anger and sadness," said Montana Tech head coach Kyle Samson. "We tried to figure out what was going on and we never got any real answers as to why he was having these issues. You know, it was one of those things where you break down and you never really prepare for it. That was a tough day."
Worse, it was a rare form of cancer called hemangioendothelioma. They are caused by abnormal growth of blood vessel cells, although the underlying cause of the mass is unknown. They can develop in organs, grow slowly, and spread to other tissues and bones.
"It was a punch in the pit of the stomach," Allik said. "Never in my life did I think it was cancer. The doctors said my bones were eating into each other. Because it was a rare form of vascular cancer, there were few treatment options beyond chemotherapy. They said chemotherapy and radiation would hurt me more than help me."
The best thing about yesterday was seeing Isaiah Allik play for us in his very first game! He has been battling cancer for the past 2 years and was finally medically cleared to practice this week! To see him on the field at the end of the game yesterday was incredible! I love you bud! #Family pic.twitter.com/uA2EmeUmBe

— Kyle Samson (@CoachKyleSamson) November 13, 2022
The doctors gave Allik tablets for kidney transplant patients and IV fluids. He also had four surgeries over a nine-month period in 2021.
"Ever since I found out about the cancer, my teammates and coaches have always had my back," Allik said. "The support that the entire Montana Tech community has shown me has been incredible. The community has been incredible, from fundraising to just being there when I needed someone to talk to."
In September, Allik's follow-up visits were increased from every three months to every six months. Then, on November 9, just three days before the Orediggers' final game against MSU-Northern in Havre, Allik was given the all-clear to play full football again.
"I was able to focus on getting better as an athlete and not focus so much on health," Allik said. "Now that I've scored that goal, why not score it to be a starter or have an impact on the field for the team?"
"When we look back on that day two years ago, it's amazing where we are today," Samson said. "With everything Isaiah went through where he had to get dressed and be clear, you never thought he had cancer."
The mottos "Family" and "Count on Me" mean the world to the Montana Tech Orediggers. Allik is family and he counted on Digger Nation. You were there for him.
"Those are things that we talk about regularly with the guys," Samson said. "He was also there for our boys when they needed him. He doesn't give himself enough credit for the days he was there as we saw him and spoke to him throughout the process. He could also count on us and for me it's just a family that you can count on every day."
You must break the news to the team that Allik has been fired to play in the Orediggers locker room.
"The place exploded," Samson said, beaming from ear to ear. "The team was pumped."
Then members of the squad approached Samson.
"They said we had to find a way to bring him in," Samson said.
Saturday's bus journey to Havre was different from the journeys he'd made since his diagnosis. Dressed in a Montana Tech uniform, helmet and pads this time, it was a game day mindset.
"It was much more serious," Allik said. "I was nervous and I was thinking more about what would happen in a game situation if I came in or if I came in at all. Or like 'How will I react when I make contact for the first time?' So it was a different mindset."
The Orediggers and coaching staff were thrilled when Allik entered the game against Northern.
"Getting him in was just the first step," Samson said. "Now that he is clear he will have a full off-season to train, be healthy and be a contributing factor on our team next year. We've got him for three more years, so we're looking forward to him."
Allik's message to those in need was profound.
"For the people, I would say, that are going through an emergency right now, in your personal life or where you have health issues, you can't overlook it," Allik said. "I think that you should be sympathetic to others. No matter what you're going through, you will eventually get to the point where you have more good days than bad days. For the people who are struggling right now, if I could go through all of this and get to where I am, I think anyone could overcome anything if they wanted it enough."