No. 1 North Carolina (5-0) vs. Iowa State (4-0)
Phil Knight Invitational Semifinals
Portland, Oregon – Veterans Memorial Coliseum
Friday, November 25 – 5:30 p.m. ET (ESPN)
quotes
"It doesn't matter if it's on the west coast or the east coast, whether we play at 10 a.m. or 10 p.m., we have to come out with a sense of urgency and excitement. We all love the game, so we should have that passion and be kind of emotional. Coach Davis spoke to us about playing with that fire, playing with enthusiasm and energy, and you kind of see sometimes it's not really there. It comes from the starters, but also from the bench. It's a collective group energy because it's kind of a domino effect. Once one guy brings energy, it kind of brings energy to the whole team." — UNC Guard RJ Davis after the Tar Heels beat Portland 89-81 in Thursday's tournament opener.
"I have enormous confidence in our guys at the front. I know they are a program that has traditionally played two frontline dudes and loves to go in. So I know our boys will be up to the challenge. We're looking forward to getting out tomorrow because we're going in too and we have faith and trust in our guys. You go in, we go in and we'll see what happens." — Iowa State Coach TJ Otzelberger as he faced the Tar Heels and battled UNC power forward Armando Bacot for the basket.
Notes before the game
Rebounding comes around: UNC began this season with high expectations, being passed by UNCW and the College of Charleston. But maybe the Tar Heels are starting to find their groove on the glass, led by the 6-foot-11 Bacot. North Carolina has had plus-16 advantages on the boards in its last two games, beating James Madison 50-34 and Portland 39-23.
Bacot's 11 points and 13 rebounds against Portland in Thursday's PKI tournament opener marked his second double-double in as many games after hitting a monster against JMU with 19 points and 23 rebounds. Bacot collected six offensive rebounds against Portland and has 14 boards on the offensive glass in his last two games. He needs two more rebounds to surpass Billy Cunningham (1,062 career rebounds) for fourth all-time in UNC history.
Game pressure, check: North Carolina is successfully removing game pressure from its early-season checklist. The squeaker past Portland saw the Tar Heels fall 64-59 midway through the second half, leaving the Pilots behind with less than 4½ minutes left in the game.
Portland's 12 3-pointers made were the most by a UNC opponent this season. Coach Hubert Davis said he wasn't happy with the Tar Heels' intensity at times, but noted that winning plays were delivered when needed. There have been 15 lead changes, the most in a UNC game this season, and the result has been six draws.
Leaky Black's 3-pointer corner before RJ Davis' pass gave UNC the lead to stay at 76-75 and the Tar Heels did enough to survive during crunch time. Bacot's dunk off a driving Black's sweet feed gave UNC a 79-76 lead. Davis later dumped a knight for some breathing room and an 86-81 lead with about 25 seconds remaining.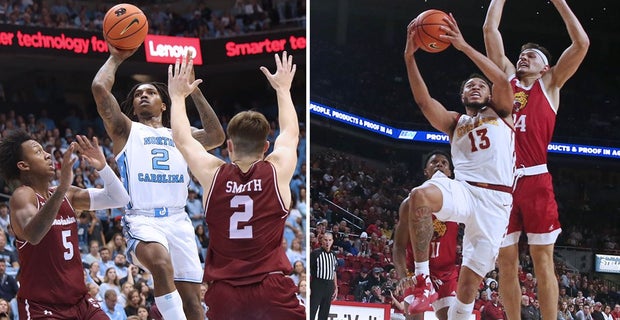 How the State of Iowa got here: Freshman guard Tamin Lipsey made four free throws in the last 20 seconds of overtime for his only points of the game as Iowa State beat Villanova 81-79 at the Moda Center on Thursday.
The Cyclones of the Big 12 Conference opened the second half with a 17-1 burst and led 51-35 but couldn't get past Villanova in the regulations. Caleb Grill's 3-pointer to open overtime gave Iowa State the lead to stay. Gabe Kalscheur's five 3-pointers and 23 points off the bench led the goals for the Cyclones, who also grabbed 17 points from Osun Osunniyi and 12 points and nine assists from Jaren Holmes.
Last meeting: Iowa State defeated North Carolina 85-83 in the 2014 NCAA Tournament, a round of 16 matchup in San Antonio. Marcus Paige's 19 points and Leslie McDonald's 18 points led all five UNC starters by double digits. Kennedy Meeks had 15 points and 13 rebounds. DeAndre Kane delivered 24 points, 10 rebounds and seven assists to bolster Iowa State.
Series history: UNC leads the all-time series 3-1. Three of the four meetings between the Tar Heels and Cyclones took place in the NCAA tournament. UNC is 9-1 all-time at Oregon State, including 7-0 at the Veterans Memorial Coliseum, where Friday's tournament will be rescheduled after Thursday's openings at the Moda Center.
Planned UNC launchers:
1 Leaky Black (Gr., 6-9, 205) – 9 ppg, 7.4 rpg
2 Caleb Love (Jr., 6-4, 200) – 18.8 ppg, 5 rpg, 3.4 apg
4 RJ Davis (Jr., 6-0, 175) – 15.2 ppg, 4.4 rpg, 3.4 apg
5 Armando Bacot (Sr., 6-11, 235) – 16.8 ppg, 12 rpg
32 Pete Nance (Gr., 6-11, 230) – 14 p., 4 rp
Planned starters in the state of Iowa:
2 Caleb Grill (Sr., 6-3, 200) – 7.3 ppg, 3.5 rpg
3 Tremin Lipsey (Fr., 6-1, 200) – 4.5 ppg, 3.3 rpg, 3.8 apg
5 Aljaz Kunc (Sr., 6-8, 225) – 10.5 ppg, 6.8 rpg
13 Jaren Holmes (Sr., 6-4, 210) – 16.8 ppg, 4.8 rpg, 4.8 apg
21 Osun Osunniyi (Sr., 6-10, 235) – 12.8 ppg, 3.8 rpg
UNC info
Schedule/Results
Roster & Bios
statistics
Information about the state of Iowa
Schedule/Results
Roster & Bios
statistics