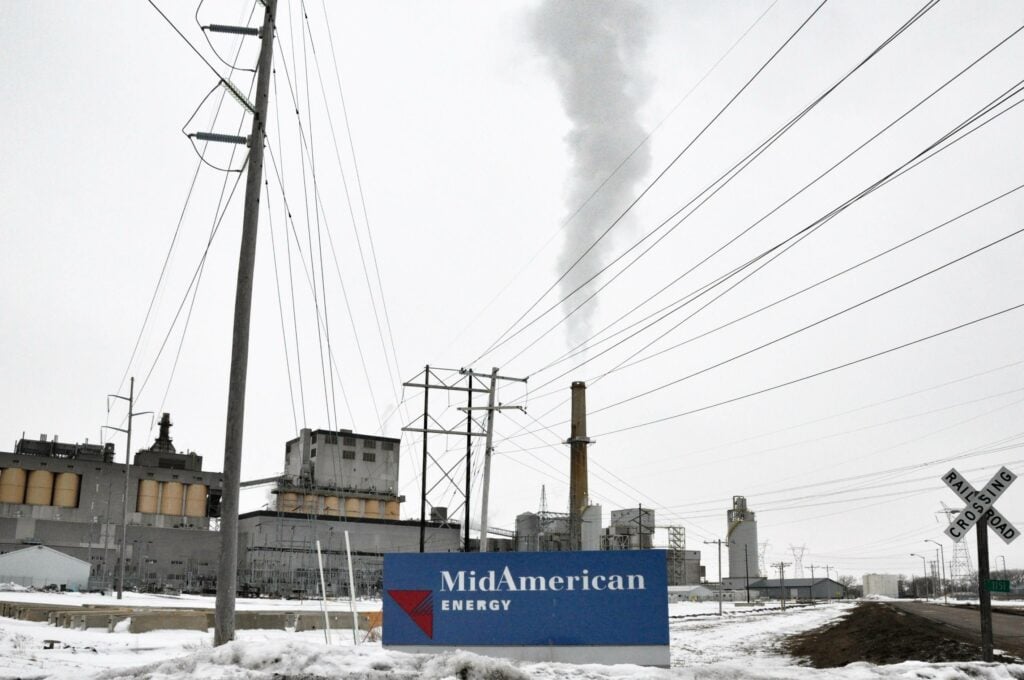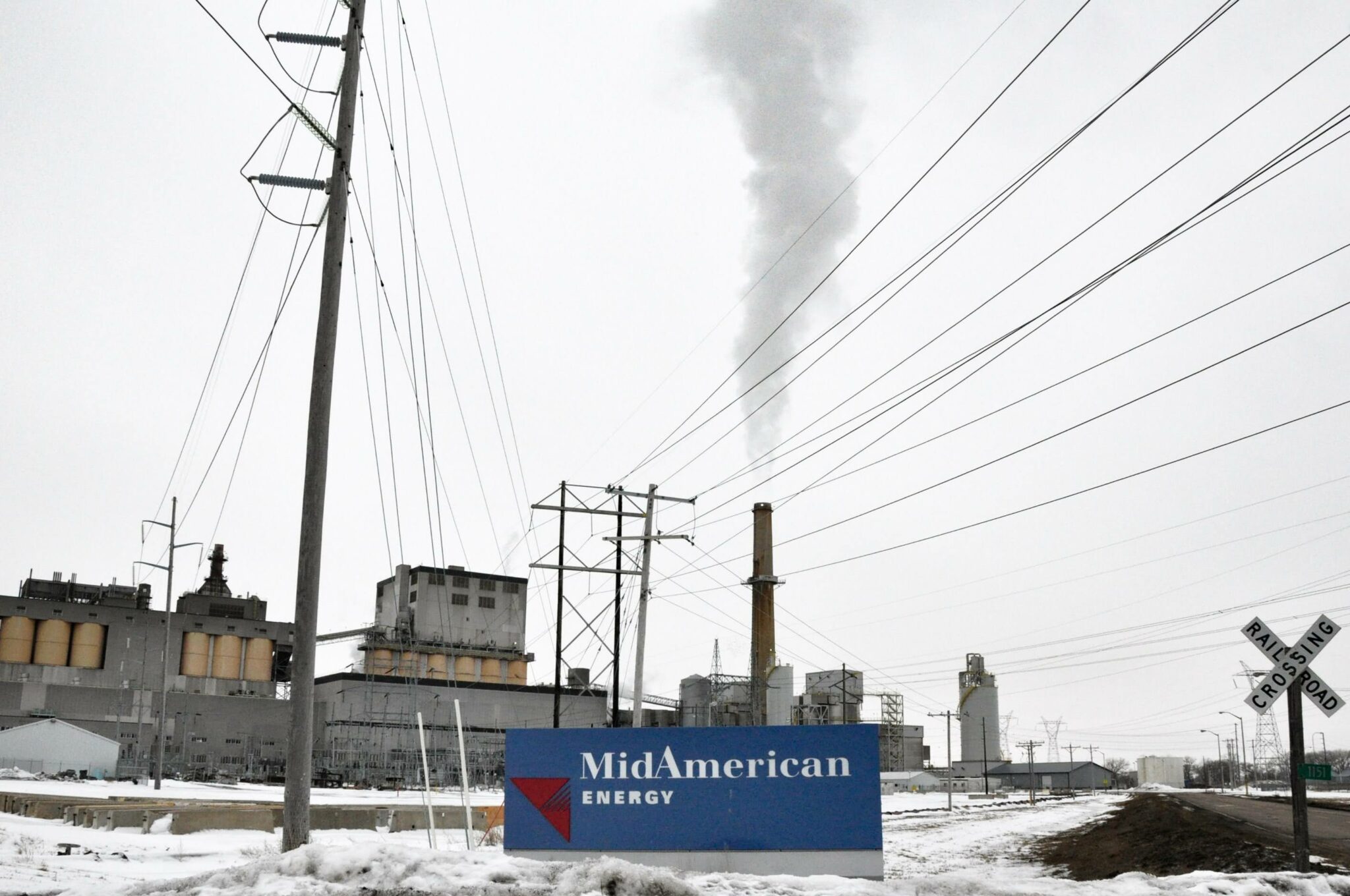 U.S. utility MidAmerican's plan to continue burning coal at five Iowa power plants will be environmentally unfriendly and more costly than choosing low-carbon alternatives.
That was the gist of the joint testimony from a coalition of environmental groups, which delivered a scathing assessment of the utility's recent plans to add significant renewable energy capacity but keep its coal-fired power plants running.
MidAmerican Energy Company, which serves about two-thirds of Iowa and portions of Illinois, South Dakota and Nebraska, has submitted its plan, dubbed Wind PRIME, to the Iowa Utilities Regulatory Committee.
Through Wind PRIME, MidAmerican would add 2,042 MW of wind and 50 MW of solar PV to its portfolio, while also sticking with its coal. According to the utility, its 2021 generation capacity was 62% wind, 23% coal, 11% natural gas, and 4% nuclear or other sources.
Earlier this week, the nonprofit Center for Midwest Environmental Law and Policy, the Iowa Environmental Council and advocacy group The Sierra Club filed a joint statement with the Iowa Utilities Board.
The groups accused MidAmerican of failing to justify its plans for Wind PRIME, noting that the utility's own analysis of its benefits "is based on MidAmerican's aging coal resources for capacity and overlooks the significant costs that could be avoided, moving away from those resources and replacing them with alternatives".
MidAmerican's coal-fired power plants make it Iowa's biggest carbon polluter, the groups pointed out. They noted that no quantitative modeling was used to determine Wind PRIME's resource mix. Instead, MidAmerican chose its preferred mix based on a combination of options that would generate the highest market revenue or federal tax credit.
Utility approach "does not make sense"
Instead, a portfolio that balances battery storage and solar PV with less wind, coupled with the shutdown of the five coal-fired power plants, could deliver $120 million in cost savings over wind PRIME by 2035, according to an analysis by Synapse Energy Economics and Energy Futures Group .
It would also result in 25 million tons less CO2 emissions. The analysis, commissioned by the coalition of environmental organizations, found that MidAmerican would be far better off choosing a more diverse resource mix than relying almost exclusively on coal and wind.
"Diversified clean energy, coupled with storage and a robust transmission system, can meet all of our energy needs in Iowa at a lower cost," said Kerri Johansen, program director for the Iowa Environmental Council.
"The status quo has led to escalating uncertainty around extreme weather, high fuel costs and fears of energy shortages. This is not an acceptable future."
Johansen instead called for MidAmerican to plan and invest in a "100% clean system" to "take steps now to explore transmission system upgrades and begin development of adequate battery storage and solar power."
Synapse's Devi Glick commented that while the utility's modeling approach "might be appropriate for a commercial utility," selecting its resource mix based on maximized energy revenues and federal tax credits is "not an appropriate approach for a rate-regulated utility with a captive rate payer" and would keep the coal-fired power plants running for another 20 years.
Modeling Synapse on a platform already used in 17 other US states to determine best-value power portfolios, it found that only about a third of MidAmerican's proposed 2GW+ wind would actually be needed.
Instead, the utility should add 1,600 MW of battery storage by 2030, 3,700 MW of solar PV by 2035 — including the 50 MW project already proposed in the plan — along with around 700 MW of wind power. Three of its five coal-fired power plants are uneconomic and should be shut down immediately, and the remaining two by 2035, according to Synapse's modeled result.
Numerous other Iowan groups have come forward to support the group's advocacy and joint statement, some of which have pointed to various other negative impacts of coal pollution, such as the high rate of childhood asthma in Iowa.
Despite MidAmerican's continued reliance on coal, Iowa ranked third among U.S. states in 2021 with 12.3 GW of installed clean power capacity, behind only Texas (45.1 GW), according to the American Clean Power Association earlier this year. and California (22.9 GW).
"Planning to eliminate these expensive, dirty generation sources and replace them with renewable energy made good sense even before the benefits of the Inflation Mitigation Act were available," said Josh Mandelbaum, senior counsel for the Environmental Law & Policy Center.
"It is critical that MidAmerican transparently plan a clean energy transition, while adopting industry best practices, before investing billions of dollars of Iowans' hard-earned money."
The Groups' joint testimony to the Iowa Utilities Board is available here.
Solar Media, publisher of Energy-Storage.news, is hosting the 5th Energy Storage Summit USA March 28-29, 2023 in Austin, Texas. Featuring a packed program of panels, presentations and fireside chats from industry leaders focused on accelerating the energy storage market across the country. Visit the website for more information.