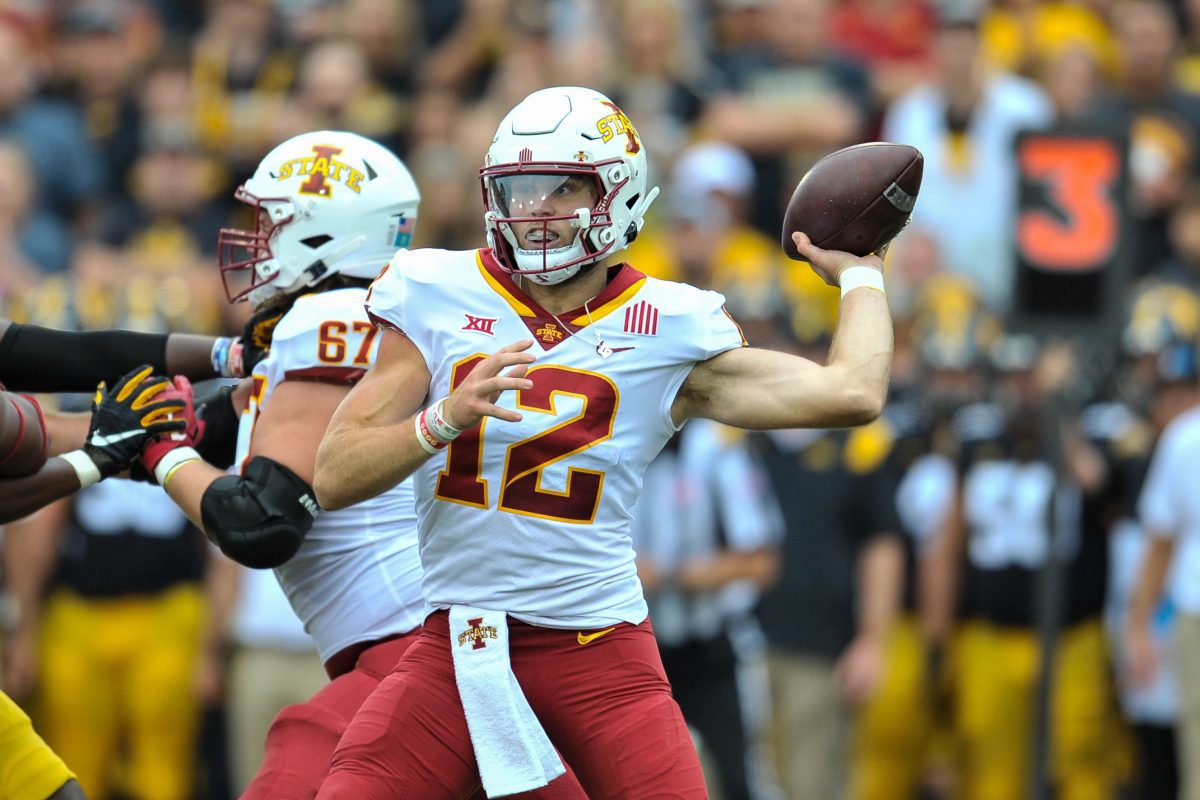 Welcome to the HCS Big 12 Mailbag. This mailbag is for all the football junkies out there cheering on a Big 12 school who have questions not only about your team but other teams in the conference as well. So, join us, grab a cold brew or your favorite beverage, and relax while I answer all of your Big 12 questions in my mailbag. I want to thank each of you who submitted a question this week and for your drink of choice tonight? Bottled in Bond around 1792. Bottom up!
@DwainR11 asks: Has there ever been a Big 12 win you've seen like Oklahoma surviving Oklahoma State opting for The Good (1Q blowout, defense), The Bad (none, the rest) and The Ugly (horrible watch management) could qualify )?
Duke: This Bedlam game was odd in many ways. I saw an Oklahoma offense burn in the first quarter and amass 28 points before looking lifeless. It was one of the strangest offensive performances I've seen in a long time. The good news is that the Oklahoma defense kept that big lead and was on the field for almost 38 minutes of this game. It was nice to see the defense had a little struggle going on compared to what I've seen over the past few weeks. I know Oklahoma still has some problems to solve, but a win is a win. Could it qualify for good, bad, and ugly? Sure, but I don't usually criticize the winning team too much because at the end of the day, it's all about winning football games.
@dadfrancis17 asks: When will Iowa State offensive coordinator fire Tom Manning?
Duke: Hopefully after the TCU game or shortly after. Iowa State's offense has so many issues and they seem to be getting worse somehow as the season progresses. First off, the running game is non-existent. The state of Iowa has the worst rushing offense in the Big 12, ranking 119th nationally in that category. They also have the second-worst red-zone offense in the conference and have dropped the second-most sacks.
We saw how bad the game call is in the red zone last Saturday when the Iowa State offense had the ball in back-to-back drives down Texas Tech's two-yard line and didn't score. They ran the ball down the middle several times and were stuffed every time. Tom Manning doesn't seem to have a creative bone in his body when calling plays. Can they give Jaylin Noel the ball a little more? With that in mind, I think it's time to make a change not just from Tom Manning, but maybe from the offensive line coach as well.
@Schmitty27 asks: Which Big 12 teams exceeded your expectations this year?
Duke: My obvious first choice would have to be the TCU Horned Frogs. I can't remember off the top of my head, but I think I picked her eighth in the Big 12 at the Media Days. I was clearly wrong and Sonny Dykes did a great job with this team. They're gritty and they keep finding ways to win football games. Also, Max Duggan has a Heisman-type year.
The other team that impressed me this season was Kansas. Nobody, and I mean NOBODY, let this team play a bowl game this year. What Lance Leipold has done with this program is truly amazing and they better try to keep this man in Lawrence.
@b_phillips21 asks: Who could the state of Iowa pursue as offensive coordinator if Tom Manning is fired?
Duke: I think it's pretty clear that we have a lot of frustrated fans from the state of Iowa in the mailbag and I totally understand that. This season has been difficult to watch, especially in conference play where offense looks pathetic. As for the candidates, I can think of a few. Remember, in a place like Iowa State, they probably aren't going to steal other offensive coordinators from Power Five programs, so all of my candidates are from the Group of Five. Here are the three names the state of Iowa should be looking at. James Madison OC Mike Shanahan, Kent State OC Andrew Sowder and Coastal Carolina OC Willy Korn. I mean come on; a guy named Korn who trains at Iowa State? Seems too good to be true.